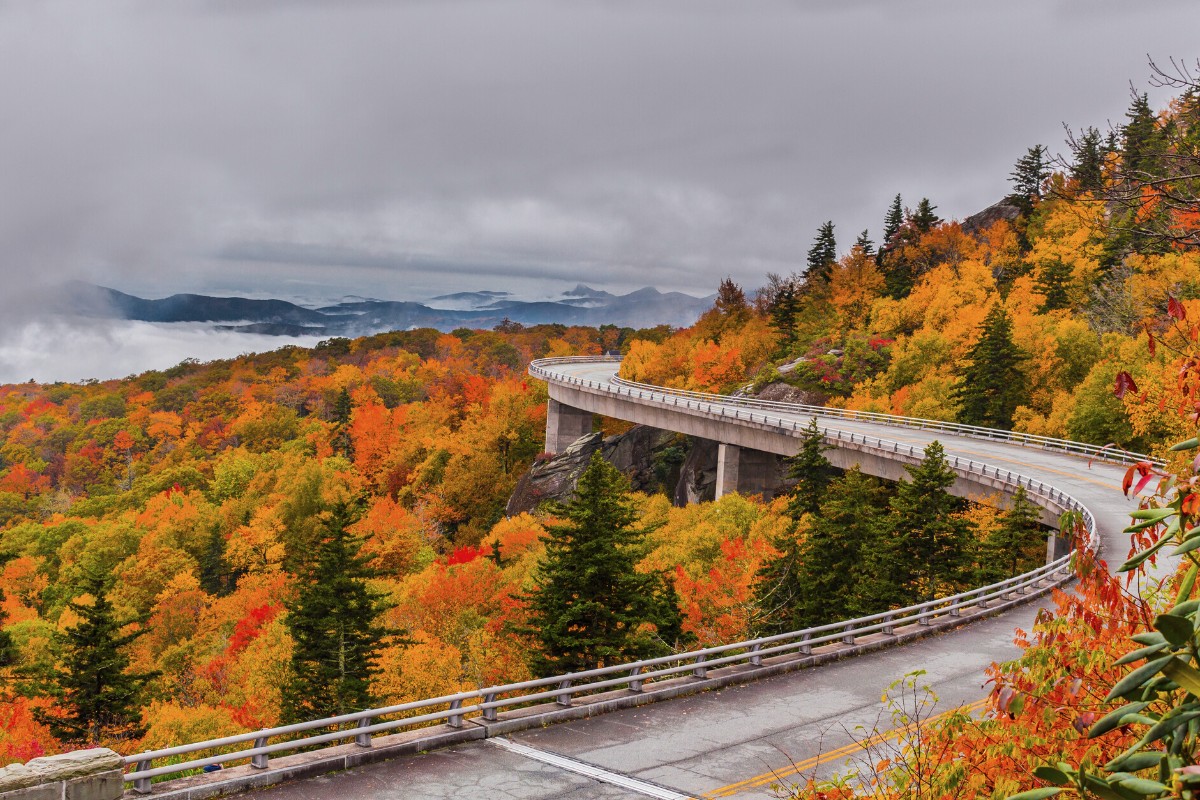 A Flexible Blue Ridge Parkway 3 Day Itinerary
Due to the global pandemic, travel looks different right now depending on where you're going from/to. Please check for travel restrictions and adhere to all local guidelines before planning a trip to any destination you may read about on this site. Please note: this post may contain affiliate links. If you purchase something by clicking the links, I will get a small compensation, at no extra cost to you.
If you're looking for an epic fall road trip in the South, the best one is hands down Blue Ridge Parkway. Running from the Southern-most end of Shenandoah National Park in Virginia to Great Smoky Mountains National Park in North Carolina. You can easily cover the route in a weekend road trip with this Blue Ridge Parkway 3 day itinerary.
Blue Ridge Parkway itself can be driven in a day (albeit a ridiculously long day covering 469 miles), but you'll be stopping frequently at the many overlooks, trails, and historic structures along the way so you should spend a minimum of 2 days driving the actual parkway.
If you don't plan to stop for hiking or other lengthy outings, I recommend driving the parkway in 2 days and allocating one day to explore one of the national parks on either end of the parkway. Alternatively, you can spend a day in Asheville, North Carolina for a city break during your mountain road trip. I'll give you some options for your 3-day itinerary so you can choose your own adventure.
Let me answer some FAQ's before we dive into the itinerary so you're in the best position to start planning your trip.
How long does it take to drive the whole Blue Ridge Parkway?
The short answer is the driving time will be approximately 9-10 hours, from the North Entrance in Afton, VA to the South Entrance in Cherokee, NC (or vice versa).
However, just because you can doesn't mean you should. This drive was meant to be taken at a leisurely pace with lots of stops and breaks to admire the views, learn about Native American and pioneer cultures, and maybe even spot some wildlife.
When is the best time of year to drive Blue Ridge Parkway?
It honestly depends what you want out of the drive. I personally think fall is the best time to drive it. Yes, it can be very crowded in the fall. But for good reason.
The fall foliage is unparalleled and one of the best places to see the seasonal show in the South. During this season, the temperatures are comfortable and sometimes a little cool. It can be rainy so come prepared with a rain jacket (I like this one from Columbia). Temperatures range from the low-40s to the high-60s.
However, fall is the most crowded time to visit, which means it's harder to find accommodation and the overlooks and trails can get busy. The other time I would recommend is late spring/early summer. Once the winter frost has subsided, the greens really come out in the mountains. You'll also see some beautiful flowers bloom like the rhododendrons at Craggy Gardens.
The weather during the spring is on the comfortable/cool side. You will be at higher elevations in the mountains, so it stays a bit chilly. The highs are in the mid-70s and the lows are in the mid-40s.
When is the best time to see fall foliage along the Blue Ridge Parkway?
One of the best parts about driving the parkway is that the elevation changes regularly over the duration of the drive. That means that you'll likely see fall foliage at some point during the drive. If the high elevation points are past their peak, that just means the lower elevations will be colorful.
That said, the best time to see the fall foliage is late September through mid October. This can change based on the seasonal weather patterns and timing.
We drove it during Halloweekend (October 28-30) and the colors were just gorgeous. Seriously, just scroll through this post to see what I mean. Nature put on a show!
That said, I'd shoot for October to have the best odds of seeing the colors at some point on the drive.
What should you bring?
For this road trip, I recommend bringing:
Where to start the drive
While you can (of course) drive the route in either direction, I'll be writing this Blue Ridge Parkway guide as if you were driving from north to south.
That said, to get to the starting point, you'll want to drive to Afton, Virginia, where the entrance is. Because we were driving from Athens, Georgia, we spent our entire day one just driving to the starting point. Make sure when planning your trip that you allot the right amount of time for getting to the entrance.
The nearest (large) airport, Richmond (RIC), puts you only 1.5 hours from Afton, so this is most likely your best bet if flying.
Where to stay near the entrance to Blue Ridge Parkway
Like I mentioned, it took us a full day to just to get to the starting point. We went up to Shenandoah National Park then drove south to Waynesboro, Virginia.
If you're looking for somewhere to stay along Blue Ridge Parkway at the start, Waynesboro is a safe bet. It's a decent sized city with many hotel and motel chains. They're nothing fancy, but they get the job done.
I mean really our only goal was to be rested after spending all day in the car…and then doing it again tomorrow.
We stayed at this Super 8 and it did the job. Nothing fancy but we slept well and were out first thing in the morning. If repeating this trip, I might opt for a small bed and breakfast closer to Afton just to have a more intimate small-town feel. Cider House Bed and Breakfast has great reviews!
The most important part of driving Blue Ridge Parkway is understanding and preparing for the navigation. Once you're on the road, mileposts denote all of the stops along the way instead of physical addresses.
Because of this, it helps to do some prep ahead of time to look into what stops you're interested in. That way as you drive, you can be on the lookout for those specific mile markers. You don't want to end up driving right past them. For example, my favorite stop was Yankee Horse Ridge, which had a waterfall and old logging railroad at milepost 34.4. A blink and you miss it stop.
To help avoid this, download a google map of the area offline. I also recommend the Blue Ridge Pkwy Travel Planner app because it has maps with points of interest. You can purchase those specific maps offline for $1.99.
Another thing to be aware of before embarking on your trip is that sometimes there are road closures due to construction, (literal) natural roadblocks, and weather. Definitely consult the official National Park Service site for the most updated information.
When we drove it, milepost 121-136 was closed because of a slope failure. We took a detour through Roanoke around this area. Luckily where there are mandatory detours in place, there will be lots of signs directing you. But you know me, I of course had this planned into my map before even setting foot in Virginia.
And don't worry, here's the full map of this 3-day itinerary of the Blue Ridge Parkway including all the mile marker stops mentioned, where to stay, and more.
Looking for a downloadable version?
Grab my free printable itinerary that includes a direct link to the map so you can download it offline.
What are the best things to do on Blue Ridge Parkway?
Aside from the obvious of admiring all the pretty mountain views (especially in fall), there are plenty of activities along the drive and in the surrounding towns.
There are hiking trails, waterfalls a plenty, historic buildings, museums, farms, and other outdoorsy activities. We're not a super outdoorsy couple so you won't catch us fishing or hiking a trail longer than 3 miles especially without a waterfall payoff, so that's what you'll find in this itinerary.
If you are a hiker though, be sure to read these tips on planning a foolproof hiking itinerary.
Day 1: Afton, Virginia to Meadows of Dan, Virginia
For your first day, you'll be starting at the north end of Blue Ridge Parkway and driving south. Head to the entrance in Afton, VA.
The road itself is off of US-64 and 250. You can typically enter "Blue Ridge Parkway Afton" into your GPS and it will direct you to the correct spot. However, there is a popcorn store at the corner you're looking for so when in doubt enter this address (130 Afton Overlook, Afton, VA 22920) then look for the signs.
Alternatively, you can stop in the Rockfish Gap Visitor Center that services both Blue Ridge Parkway and Shenandoah National Park. Grab a map, hit up the bathrooms, and fill up your gas tank. The address is 130 Afton Cir, Afton, VA 22920.
We're off!
The first stop you might want to take is at Humpback Rocks Visitor Center at MP 5.8 where you'll learn about the life of pioneers in the Blue Ridge mountains. At the farm museum outside, there are costumed interpreters, which you may or may not love. They'll demonstrate some aspects of pioneer lifestyle like basket weaving. Note that in winter, demonstrators are not present, but you can still tour the area.
As you drive to the next stop, you'll likely notice many spots to pull over and admire the views. I encourage you to be spontaneous and take those moments. This itinerary is meant to give you an outline of highlights on Blue Ridge Parkway, but really you should be exploring these little overlooks as you drive by them.
At MP 28.5, you can step foot on the Appalachian Trail. Whether you want to hike a bit of it then return to your car, or simply step foot on the trail, I'll leave it up to you.
The next stop was my favorite, Yankee Horse Ridge at MP 34.4. When traveling from north to south, it is on the left side of the road, so drive (and park) safely…as opposed to recklessly with abandon as I'm sure you would have if I didn't remind you not to.
Here you'll find an old logging railroad and multi-tiered waterfall. You can follow a small trail to the left of the waterfall, then travel over the waterfall on the railroad bridge, and up on the right-side of the waterfall to get to the upper falls.
Like I mentioned, we're not the best hikers, so this kind of minimal effort payoff was exactly my kind of stop!
As you drive and depending on when you embarked, you may be getting hungry. While you can stop at James River Visitor Center at MP 63.8 where there are picnic tables, I loved finding random overlooks and pausing to make a sandwich from the fixings in the cooler we kept in the car. This gives some more flexibility on when you can eat lunch.
Either way, don't forget to eat lunch when hunger strikes to fuel up for the rest of the day (even if you're only getting in and out of the car 100 times).
At James River Visitor Center, you'll find Kanawha Canal Lock that was built in the mid 1800s. The canal had 90 locks along its length from Richmond to Buchanan, Virginia. You can think of a canal lock like a water elevator for boats. It connects two parts of a river that are different levels so boats can travel freely.
It's so neat to see innovation that was used so long ago, especially because canal locks are still used today!
While James River Visitor Center is the lowest elevation on the parkway, you'll soon climb more than 3000 feet in elevation over 12 miles, which brings you to some great overlooks including Thunder Ridge at MP 74.7.
From here you can see Arnold's Valley and the Allegheny Mountains. Thunder Ridge is also along the Appalachian Trail, so this is another opportunity to say you've been on it!
Soon you'll need to detour because of the road closure.
One stop that's worth a trip is Natural Bridge State Park, which features a HUGE natural bridge made of rock. There's also a river that flows adjacent to the trail.
We drove up to the entrance of the state park, but honestly wanted to keep going at this point, so we opted to skip it. Do I regret it a bit? Kind of. That said, I highly recommend checking out the state park while you detour around MP 121-136.
The detour will take you through Roanoke. This is a great spot to re-fuel your vehicle and stop in a grocery store for snacks or to use the restroom. You'll re-enter Blue Ridge Parkway off of Bent Mountain Road. The closest address to punch in is 11062 Clover Hill Rd. Note that this address doesn't correspond to anything real, but it does get you closest to the access point. I can't stress it enough to look for signs!
There are a ton of overlooks including Cahas Knob at MP 139, Devil's Backbone at MP 143.9, and Pine Spur Overlook at 144.8.
One of the most popular stops on Blue Ridge Parkway is Mabry Mill at MP 176. This was a high priority stop for me because it was just the quintessential fall view. Picture an old water mill slowly churning water from a stream with colorful fall foliage surrounding. Yepp, that's perfection. This is why we're here.
There is also a blacksmith shop, craft demonstrations, a restaurant, and gift shop. The restaurant serves some cozy options like chicken pot pie and pot roast (with salads and vegetarian sides for those with dietary restrictions).
That concludes day one. Let's discuss some lodging options.
Personally, we ventured over to Fancy Gap, Virginia to chase another unique property to add to the books. We stayed at the Grassy Creek Cabooses and y'all this place was so neat!
They've converted a number of old train cars into stationary hotel rooms. It felt like glamping almost because the property was very secluded, and each car had a cooking grill with seating. Ours even had a jacuzzi inside!
It was also one of the most cost-friendly options at a maximum of $110 per night. At the time, they accommodated one-night stays but checking now, they appear to only have 2-night stays minimum. This may change as fall approaches as this is the busiest tourism time.
They are pretty old school, so you'll need to call directly to make a reservation or inquire about one-night stays. Their phone number is 276-398-1100.
Alternatively, stay at Blue Ridge Motel for ~ $70 per night or Blue Ridge Manor Bed and Breakfast for ~ $130 per night (with breakfast included). The Blue Ridge Motel offers the closest stopping point to the actual Parkway if you don't want to venture too far.
Day 2: Meadows of Dan, Virginia to Asheville, North Carolina
Head back to Blue Ridge Parkway to start the day. The closest address is actually the Blue Ridge Motel 2295 Jeb Stuart Highway, Meadows of Dan, VA 24120.
First up is Puckett Cabin at MP 189.9 where you can learn about a mountain midwife you delivered 1000 babies! What a woman!
At Blue Ridge Music Center at MP 213 you might catch a concert of bluegrass music. There are exhibits to learn about the history of music in this region. Music is very important to this region so be sure to incorporate it in your Blue Ridge Parkway trip a little bit, even if country and bluegrass isn't your preferred genre.
The next section of the Parkway (MP 218) is special as it was the first to be constructed back in 1935. There is another farm to learn about pioneer life with costumed interpreters at MP 238.5 at Brinegar Cabin, which is on the National Register of Historic Places.
It's been a minute since we saw a waterfall, so let's change that. At MP 272, there is a lot going on including a cabin, church, picnic tables, and most importantly Cascades waterfall. You can see this one via a nice short 1.2 mile trail.
Now might be a good time for lunch. Again, I recommend finding a quiet spot to pull over, preferably with a view. However, you can definitely grab a picnic table at E.B. Jeffress Park (MP 272 from before).
For a great lakeside view, keep heading south to Price Lake Overlook at MP 297.
Definitely take your time as you go through the Linn Cove Viaduct around MP 304. This 7-mile stretch was the last to be built and is probably one of the most recognizable areas. The curved road makes for great photos.
One of the Parkway's most popular areas is Linville Falls at MP 317. There is a visitor center and a few trailheads to the namesake waterfall, which is a three-tiered waterfall. The trails are all under 1-mile long, but depending on the incline, they can get difficult.
The easiest to do is the Ewins View Trail, which rewards you with a view of the falls only 0.5 miles from the visitor center. You can continue along the 1.6-mile trail for different angled views of the falls.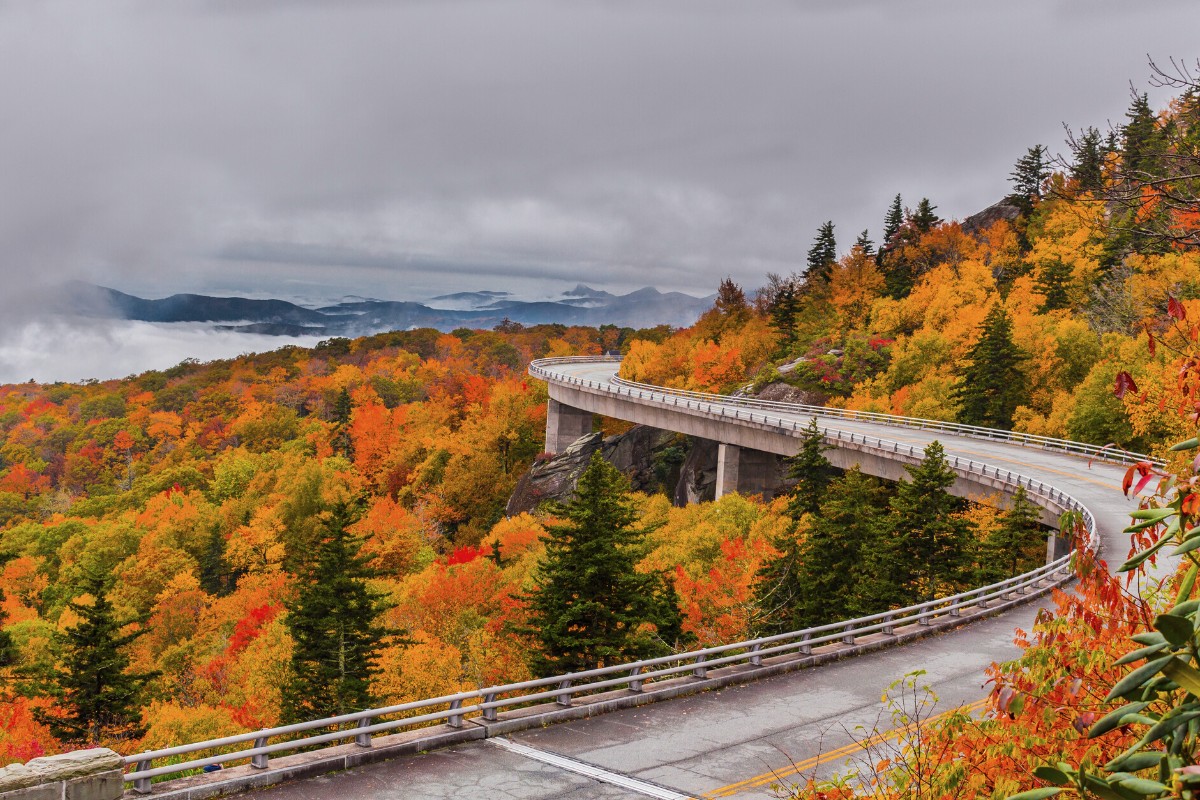 You know I love science so of course I have to recommend the Museum of North Carolina Minerals at MP 331 to learn about the geology of the area! We love a good science site (especially a free one)!
Plate tectonics melted rocks nearly 18 miles underground which then cooled and eventually were uplifted to reveal gems and minerals, especially quartz and mica in this area. Isn't that so cool?!
The address of the Museum of North Carolina Minerals is 214 Parkway Maintenance Rd., Spruce Pine, NC 28777.
Depending on the time of year that you are visiting, a stop at Craggy Gardens at MP 364.5 will reward you with blooming rhododendrons in summer time.
During the fall, you can still stop there to visit Craggy Pinnacle, which after a 0.7-mile trail provides 360 degree views of the mountains.
End your day in Asheville, North Carolina, where there are some other things to do including the Folk Art Center at MP 382 and the main Blue Ridge Parkway Visitor Center at MP 384.
The Folk Art Center showcases crafts of the Southern Appalachians with exhibits, demonstrations, a library, an auditorium, and shop.
The visitor center is the best spot to learn about the history of the parkway and natural and cultural diversity of the area. You'll also find the Junior Ranger program and the 1.5-mile loop TRACK trail around the area with four educational adventures for kids.
For the night, stay in Asheville, North Carolina. This artsy mountain town has over 80 breweries in the region as well as delicious restaurants. I recommend Wicked Weed Brewing Pub to try both food and local beer. Wood roasted eggplant and smoked beef rib were our favorites.
For my vegetarians and vegans, I can't recommend Rosetta's Kitchen enough. They serve vegan Soul food. I had the peanut butter tofu, collard greens (kale), and smashed potatoes with gravy. I dream of this tofu y'all. So good!
Related read → Weekend in Asheville itinerary
Day 3: choose your own adventure
For your third day, I wanted to give you some options to add some flexibility to your trip. There is so much to do in this area of the South so choose one of the following to add to your 3 day Blue Ridge itinerary.
Option A – Explore Asheville, North Carolina
Asheville really is a city that should be explored on its own, so if you need a city break in this 3-day itinerary, Asheville is a great spot to end your trip.
Start your day at Early Girl Eatery with their biscuit French toast with blueberries. Alternatively, if you love biscuits, Biscuit Head has some delicious ones (although I was way more impressed with their jelly/jam bar with options like apple pie, very berry, banana buffalo, peach rosemary, and sweet potato chai).
The main to-do in Asheville is the Biltmore Estate. This is the largest estate in America and despite the costly admission fee (around $80), is worth the price. You'll spend all day here.
Before you get distracted with all the things to see and do on the estate, make sure you make a reservation at the winery for a tasting (it comes with your ticket) and reserve a time to tour the house.
While you kill time for those things, tour the gardens, pop in the conservatory for their rotating exhibit, and take in more mountain views.
When we visited we saw the Biltmore Gardens Railway, which was an exhibit where they had little models of the buildings on the estate made from plants with small railroad tracks (also made of plants) that had actual trains running across them. So cute!
The Italian Gardens are a great place to sit and relax and the Rose Garden is full of color.
Be sure to check out the shopping area including a candy shop, jewelry store, and gift shop, where you'll find some exclusive Loungefly bags.
There are more shops by the winery, which is about 4 miles from the main house. This is a great spot to grab lunch at the BBQ food truck and homemade ice cream from their creamery. I had the vanilla with cookie dough and it was perfect for the super hot day we were there.
Aside from the Biltmore Estate, there are a couple other fun things to do in Asheville including visiting the North Carolina Arboretum, hiking in Pisgah National Forest, and my favorite, the Asheville Pinball Museum, where for a flat admission fee, you can spend hours playing historic pinball machines and classic arcade games.
For lunch or dinner, try White Duck Taco Shop, a fusion taco spot that's a local favorite. We had the banh mi taco and the pulled pork taco.
Finally, don't miss dessert at Baked Pie Company where you can order a pie flight to taste 3 delectable pies with a side of vanilla ice cream. It's photogenic and delicious!
Here's a closer look at my experience at Baked Pie Company. I was in foodie heaven!
Option B – Shenandoah National Park
If you aren't geographically inclined (me neither don't worry), Shenandoah National Park is actually at the north end of Blue Ridge Parkway. So, if this is the option you choose, you'll want to actually add it on the front end of your trip before you drive the parkway north to south.
However, if you're driving south to north, you can absolutely add this at the end.
Shenandoah National Park can definitely be seen in a day. The main road that travels through is Skyline Drive, which actually ends at the beginning of Blue Ridge Parkway. You can kind of think of them as one long road broken up by National Park Service red tape.
Skyline Drive is about 100 miles long and can be driven in a day with stops along the way.
First, you can enter the park at North Entrance Station or for a half day, enter at Thornton Gap Station, which is an hour south of North Entrance. You do need to pay $30 for entrance or use your America the Beautiful parks pass to gain entry.
There are some great things to do in Shenandoah National Park but unfortunately, we had some awful fog and clouds so we ended up skipping all the outlooks and opting for the unique experience of having a beer at a visitor center in a National Park.
That said, here's what we would have done had the clouds kindly removed themselves from the premises.
Shenandoah Valley Overlook at MP 2.8 provides some stellar mountain views very close to North Entrance to start out with a bang.
Gooney Run Overlook at MP 6.8 also has some great views.
At MP 41.7, you can stop in Pollock Dining Room for full service meals or do what we did and pop in Mountain Taproom for smaller eats, beer, and local wine.
We also tried to see Dark Hollow Falls, one of the most popular falls in the park, at MP 50.7, but it started getting too dark for comfort as we were hiking so we turned back. But it really looks beautiful in the pictures, so finish the hike for me, will ya?
The hike itself is only 0.75 miles out-and-back but it can get rocky, which makes the return trip a bit challenging.
The most popular hike is Old Rag, which you do need a separate day-use ticket for. They've implemented a ticket system to limit the traffic to protect the ecological communities on the rock. The tickets are only $1 and you must get them in advance either by visiting this site, or calling at 877-444-6777. There is no time required to do the hike, the ticket can be used at any time of the day on the date selected.
Option C – Great Smoky Mountains National Park
My final option for day three would be to continue along Blue Ridge Parkway and explore Great Smoky Mountains National Park.
Since you've spent the night in Asheville, I do recommend Biscuit Head for biscuit sandwiches and a crazy good jelly/jam bar or Early Girl Eatery for their biscuit French toast (I dream of this one tbh).
To continue on your drive, you'll head back to the Parkway. This part of Blue Ridge Parkway is called the Pisgah region. There are a few access points near Asheville, but the easiest to enter in your GPS is the Blue Ridge Parkway Visitor Center, which will have signs directing you to the access point. The Visitor Center address is 195 Hemphill Knob Rd., Asheville, NC 28803.
You'll be passing Mount Pisgah around MP 406 and while there is a trailhead there to hike the mountain, you'll want to keep going straight on to Great Smoky Mountains National Park. It'll take about 2 hours to get to the National Park from Asheville along Blue Ridge Parkway.
So, I recommend driving Blue Ridge Parkway and still pulling over as you see cool outlooks, but as for the bulk of the activities today, they'll be in Great Smoky Mountains National Park.
Be on the lookout for Richland Balsam Overlook at MP 431.4 because that's the highest elevation on Blue Ridge Parkway at 6053 feet. Another outlook to be sure to pull over for is at MP 451.2 at Waterrock Knob where you'll get a nice panorama view of the surrounding mountains. It's claimed to be the best spot for sunrises and sunsets. Snap some pictures, then let's keep going.
Blue Ridge Parkway ends in Cherokee, North Carolina. If you take a right when you reach then end at US-441 N and travel north for a whopping ¾ mile to Oconaluftee Visitor Center inside the Smokies.
I do recommend getting out here to learn a bit about the park, use the restroom, and grab some park maps including the specialty ones for a couple bucks. These are great if you're looking for specific activities. For example, we picked up one that was a waterfall map.
There are a few standout highlights of Great Smoky Mountains National Park that you don't want to miss. There are two main roads. US-441 travels north to south and then toward the north end of the park Little River Gorge Rd (also called Fighting Creek Gap Rd) intersects and travels east to west. As you travel along, look for the following stops.
The first is Clingmans Dome, which is a ¾-mile out and back trail that goes to a tower outlook. It definitely provides some stellar 360-degree views of the surrounding mountains. But note that the ¾-mile trail is VERY steep. I'm not kidding when I say that this trail is where I discovered that I had asthma. I can't make that up.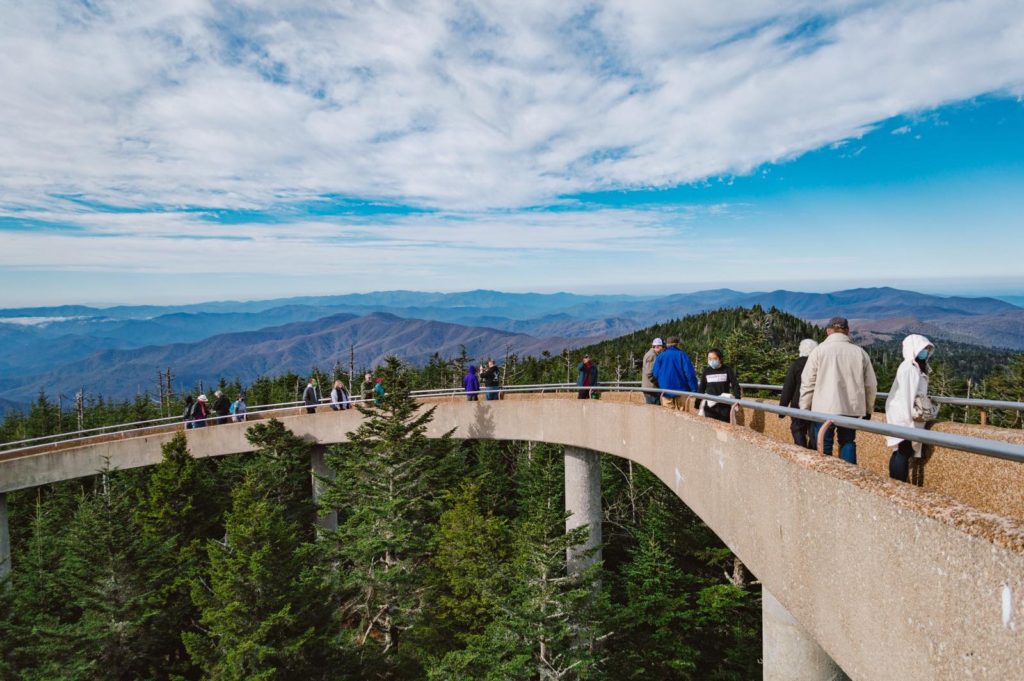 At this point, there are two hikes that I would choose between that are similar in length – Alum Cave Bluffs and Laurel Falls.
Alum Cave Bluffs is a little misleading as there isn't actually a cave. It's really a concaved cliffside that you can walk under. It was form from eons of freeze and thaw cycles (yay more science!).
The Alum Cave Bluffs is a 2.3-mile out and back type trail so it does take about 1.5 hours to complete. If there are other highlights you really want to see and depending on what time you left this morning, you may need to skip this one.
Laurel Falls is a great 2.6-mile out and back trail to a waterfall. It's also paved and natural very crowded since everyone (and their mother and child) can access it.
There are some great views from up there and the waterfall itself is really lovely. There's even a bridge so you can walk across it.
The final big thing to do in the Smokies is Cades Cove, which is a valley surrounded by mountains. The valley is home to a ton of wildlife including deer, turkey, ground hog, and even bears. You can get there by following Little River Gorge Rd toward the end. There are plenty of signs because this is one of the most popular spots in the park.
When you get there, you actually drive the 11-mile loop road that circles the valley. You can stay in the car or get out at a few stops to walk some of the trails.
The speed limit is very slow and it is often stop and go traffic, especially in the fall (the park's most popular season). You'll probably spend 2-4 hours touring Cades Cove depending on if you get out of the car.
Some of the trails include a short nature trail and a 5-mile roundtrip trail to Abrams Falls. There is also a historic area called Cable Mill with historic structures.
If you have some extra time, I would travel back toward Laurel Falls and break off toward Elkmont Campground to find the Elkmont ghost town! It's very small and walkable but an interesting (and spooky) piece of history. The homes are mostly still intact and you can walk inside them.
For dinner and if you need a final place to stay, I recommend Gatlinburg, Tennessee. It's the whackiest town I've ever seen. It's very touristy and full of the strangest attractions (almost like rides). But because they cater to tourists, there's no shortage of hotels and food.
Alternatively, you can camp at Great Smoky Mountains National Park. We spent a weekend at Elkmont Campground and had a wonderful experience!
Related read → Beginner's guide to camping with tips for first timers and camping essentials
Blue Ridge Parkway Tips
1. Fuel up frequently
Anytime you stop or see a gas station, I highly recommend filling up your tank. You might not need it per se, but like any good road trip, you want to be prepared for getting lost or not having access to a gas station for a while.
2. Pack a cooler
Snacks really are a road trip essential that you don't want to forget. But I recommend taking it a step further and packing a full on cooler with cold cut sandwich fixings. You can also buy pre-made cold items like salads, sandwiches, potato salad…whatever you prefer.
It just helps to have lunches ready to go from your car so if you don't have to plan your day around where you have to stop for lunch. Not to mention it will save you some money if you don't have to pay for the overpriced food designed for starved tourists who've been driving way too long on an empty stomach.
You also don't need to fork over a ton of money for a fancy cooler, a simple 9-quart one for 2 people or this larger one for a family will keep your vacation budget in check.
3. Be spontaneous
You read that right…and I'm with you, I can't believe I said that either. As the travel hyper-planner, I LOVE (nay THRIVE off of) a good plan. Spontaneity isn't usually my jam.
But, Blue Ridge Parkway is meant to be explored leisurely and without a hard plan. You can't possibly plan for every overlook, waterfall, or trailhead. Tuck that travel anxiety away and venture forth and be curious.
4. Be prepared
Okay, yeah spontaneity is great for the little things. But let's not just jump in without a map. Grab a free copy of my map (with MP markers) here and download it offline for when you're driving.
5. Don't try to squeeze too much in
Driving the Blue Ridge Parkway is a great feat, truly. It is a long multi-day drive with lots to see. So don't rush and don't pack too much in too short of a time.
If you have 3 days, this itinerary should be perfect for you! But, if you only have a 2-day weekend, you're going to have to cut a day off this itinerary. Don't try to squeeze it all in. It's just not happening.
Save to Pinterest
My Travel Essentials